Network Setup
Network / Server Setup and Configuration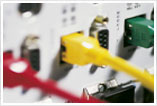 Is your company:
Moving to a new location?
Experiencing slow internet / network speed?
Adding new users to the network?
Having intermittent network problems?
Looking to clean up the wiring closet?
We specialize in configuring wired or wireless network hardware from all major vendors such as Cisco, 3com, Netgear, Dell PowerConnect / Poweredge, HP Procurve / Proliant, Linksys, D-Link, and others. Canedata will make sure that your network is FAST, reliable, and expandable!
Canedata can also keep your network safe and secure.

CaneData can help every step of the way - from installing network jacks to helping you login on Day 1 of with your new system.
Our Services

Remote Support!
Contact us anytime and get instant remote support. No setup or signup required, no monthly fees or hidden charges.

Website Management Services
Stand out on the web! Canedata delivers the right solution to keep your web site fast, up-to-date and secure.
---
Send us a message!