Business Consulting
Process Improvement / Database Applications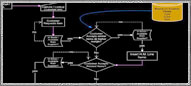 CaneData specializes in establishing flexible IT frameworks and processes that bring success to growing companies.
Canedata can help organize and improve the operations in your business by applying the latest in technology, such as Microsoft Windows Server 2003, Exchange 2003 / 2007, Outlook messaging, Quickbooks, Fishbowl, VMware, and SQL Server 2000 / 2005.
Whether you need a single flowchart or an entire business process mapped out, revised, and automated, CaneData can provide a solution to fit your needs. We can help you find the right software, or work to develop a custom solution from the ground up.
We'll provide the right expertise to help your business restructure, move to a new location, expand, or improve operations. Contact us today!
Our Services

Remote Support!
Contact us anytime and get instant remote support. No setup or signup required, no monthly fees or hidden charges.

Website Management Services
Stand out on the web! Canedata delivers the right solution to keep your web site fast, up-to-date and secure.
---
Send us a message!